TealMover Plus
2.15
Beam, delete, rename, and copy files with TealMover, the file management utility for SD/CF/MS cards. TealMover lets you see, move, modify, hex edit, and delete individual files.
Last update
20 Mar. 2006
Licence
Free to try |

$16.95
OS Support
Mobile
Downloads
Total: 276 | Last week: 2
Ranking
#32 in Utilities
Publisher
Tealpoint Software
TealMover Plus Publisher's Description
SD Card and File Companion: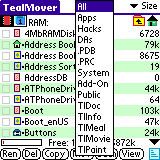 Deluxe File Manager
An invaluable file management utility, TealMover beams, deletes, renames, moves, and copies files both in memory and on external VFS-compatible expansion storage cards.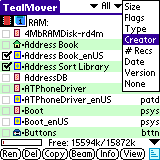 Feature Highlights
File information
File property edit
File rename
File beam
File send
File delete
System information
Record viewer
Hex editor
Preference editor
Supports SD/MMC devices
Supports Memory Stick
Supports VFS Compact Flash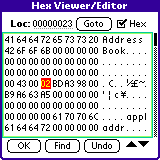 Special Functionality
Supporting SD cards, MMC cards, compact flash, and Memory Sticks, TealMover addresses limitations in the standard Palm OS utility set by moving and beaming individual program databases as well as applications. It can also manipulate and delete individual files and applications and adjust file properties and status bits. Advanced new record viewing and hex editing tools even let you view and manipulate files on a byte-by-byte level. TealMover is PalmOS 5 compatible, and supports both Sony and Palm full screen and landscape (rotated display) modes.

- Intuitive -
Its no-frills businesslike layout is refreshing... I found TealPoint's implementation particularly intuitive.
HandHeld Computing Magazine

BONUS: A special for Handango, this enhanced bundle includes TealPoint VersionMaster for PalmOS. A $10 value, VersionMaster effortlessly tracks all your TealPoint applications, finding, downloading and installing new updates, when available.

A leading provider of software solutions for handheld devices, TealPoint Software currently offers 27+ productivity products for the PalmOS platform. Selections include TealDoc, the superior document reader, TealMovie, the award-winning multimedia player, TealAuto, the complete vehicle service and expense log, TealPhone, the replacement address book, and TealLock the definitive PalmOS security solution.


Take advantage of TealPoint's Free 30-Day Trial Policy on all products.
Look for Similar Items by Category
Feedback